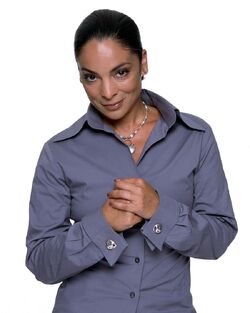 Roxanne "Roxy" Harvey (Jasmine Guy) was strangled with leg warmers by a jealous friend after inventing them in 1982. She apparently has a very difficult time coming to terms with her own death, so with Rube's encouragement she marks the 21st anniversary of the event by burning her former possessions. Roxy and George are the only Reapers of the group with day jobs. She used to be a meter maid for the city, but entered the police academy at the beginning of the second season.
She is a cynical, no-nonsense woman with respect to both reaping and her day job and carried a handgun to intimidate people that she tickets to keep their arguments over parking tickets short. She is the only Reaper on the series shown to use her powers in anger, when she temporarily removed the soul of a particularly rude motorist, thereby alerting him to the existence of a higher power. The man subsequently started a religion around her, much to Rube's dismay (The man reverted to his usual enraged self when Roxy gripped his testicles). She has confessed to often not sleeping because of nightmares. Rube considers Roxy to be his "second in command" and left her in charge when he went away to locate his daughter's whereabouts. Assigned to investigate the disappearance of Ray Summers, Roxy concluded that Daisy and Mason had something to do with it, but she chose to cover for them, claiming that Ray, who had a police record, ran off to Portland, Oregon.
She is the most recent Reaper after George, but is more mature than Daisy and Mason, who died before her. Over time, George and Roxy develop a near-friendship as George acquires a greater sense of responsibility, impressing Roxy given her own police duties.